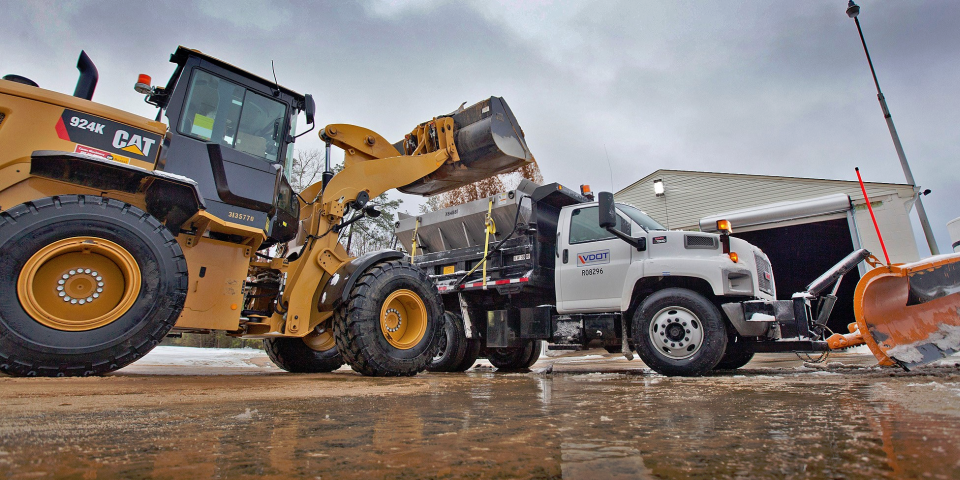 Virginia Department of Transportation (VDOT) crews are in full deployment mode for a statewide winter storm that is expected to bring heavy snow fall, including freezing rain, with the height of the storm to hit Friday.
"Crews are in 24-hour operations with a significant force of crew members, equipment and materials and we are continuing to treat roads with anti-icing materials in advance of the next storm," said VDOT Commissioner Charlie Kilpatrick. "With a storm of this magnitude, driving conditions will be extremely hazardous. I urge motorists to plan ahead, monitor weather conditions and stay off the roads during the storm."
Currently there are some slick road conditions in the southwestern and northern regions of Virginia. Motorists should watch for icy patches, particularly on bridges and overpasses.
Crews are treating roads with anti-icing materials.
VDOT is preparing for total accumulations of one to three feet of snow across the state, w
N.C. Department of Transportation crews across the state are monitoring weather conditions across the state and are prepared to handle winter weather when necessary.
Crews began pre-treating interstates, N.C. and U.S. routes, as well as other heavily traveled roads with a salt-water mixture called brine in advance of winter weather forecast. Those efforts will continue as another storm is forecast to hit the state.
More than 1.1 million gallons of brine have been used as part of statewide anti-icing operations, as of Thursday morning.
The latest model data from Thursday morning suggests snow and sleet at the onset late Thursday night, changing to freezing rain Friday, then all rain across southern and southeastern portions of North Carolina on Friday afternoon.
Learn more about how NCDOT prepares for winter weather.
Get tips to keep you safe, if you have to be on the roads.
Equipment, supplies and additional manpower are ready and on standby t